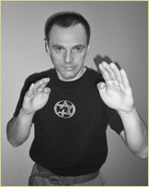 About Vladimir Zolottev

Vladimir Zolottev has dedicated himself to the continuous development of character through the martial arts for more than 20 years.
Born in Romania, Vladimir started his training in Shotokan Karate at the age of 13 under Shihan Aurel Patru and Sensei Marian Patru. Within 3 years, Vladimir became one of the youngest members of the National Karate Team of Romania. Vladimir successfully competed with the National Romanian Karate Team at competitions throughout Europe, and the United States. Vladimir holds numerous awards, including First Place awards in Shotokan Karate at National, European and World levels. Vladimir also holds awards in Tae Kwon Do.
In June 2008, Vladimir began training in Krav Maga under Master Instructor Rhon Mizrachi and Instructor Ed Maisonet in N.Y.C. Due to his innate talent, understanding of the human body and martial arts, Vladimir was accepted into the Krav Maga Instructor Course taught by Master Instructor Rhon Mizrachi in August, 2009. He successfully graduated the course and has been authorized by the Krav Maga Federation to teach Krav Maga at his Martial Arts School, True ChampionZ Martial Arts, in New Rochelle, NY.
Vladimir is a gifted athlete and an exceptional instructor. At the age of 16 he was chosen as an assistant instructor to the Romanian National Karate team, and has been passionately teaching ever since. His intensive competitive training experience has brought him an intuitive understanding of concepts of movement, position, and Krav Maga techniques.

To learn more about Instructor Vladimir Zolottev, please also visit True ChampionZ Martial Arts.